3-in-1 Scalp Massage LUSH Shampoo Brush
$8.97 $36.99
The Hair Growth Boosting, Dandruff Destroying Triple Action Brush That's Like Getting a Scalp Massage

How can adding a shampoo brush to your shower routine boost hair growth like never before? Well, This is no ordinary hairbrush- this scalp massage shampoo brush is a must if you want to take your hair to the next level!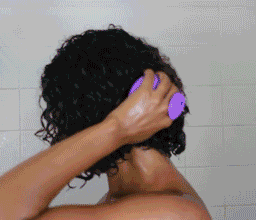 A cult favorite among Japanese women for the past decade, word of the Scalp Brush is finally getting around stateside. The secret behind its Silicone bristles are the Medical-grade silicone rounded tips, positioned to make them perfectly-suited to gently exfoliate the scalp, scooping up all the dirt and oil. Massaging the scalp also stimulates micro-circulation, which is essential for healthy hair. This not only results in a more even distribution but helps rinse away every last sud— detangling hair in the process.
7 Reasons We Love This 3 in 1 Silicone Brush!
Boost Hair Growth
Increase Blood Flow
Control Dandruff
Relieve Scalp Itchiness
Makes Hair Stronger & Healthier
Get Rid of Product Buildup
It feels great on the scalp!

The Lush Triple Action Shampoo Brush exfoliates and cleanses your scalp to:
Boost hair growth, eliminate product buildup, oil, and dandruff, and to alleviate scalp troubles.
Its groundbreaking soft silicone bristles help you to maintain a healthy scalp by gently lifting away dead skin cells and impurities, and increasing blood flow. It's the best way to shampoo your hair! Have a soothing and invigorating scalp massage while getting the best scalp cleansing experience ever!
Package Includes: