All-in-One Water Resistant Waist Bag
$18.97 $60.00
Carry everything you need while jogging in the waterproof waist bag!
The waterproof waist bag is built to fit anyone and to provide bounce-free stability and comfort, carries enough water for any training run, and works great for staying hydrated between aid stations. Featuring just enough storage for the necessities, a touch-compatible phone pocket, a comfortable, elastic hip belt, it's sure to keep you moving down on the right trail. Designed to be an all-in-one water bottle belt holder and to make life easier on the go. It's the perfect way to enjoy some exercise while still having the comfort you desire!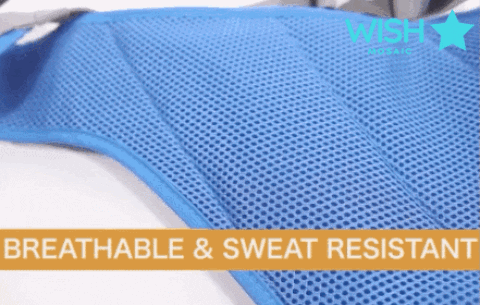 The Waterproof Running Waist Pack is equipt with many unique features that allow you to be hands-free. This is the best running belt for smartphones. Made of water-repellent and tear-resistant nylon material. It will be a great addition to anyone who loves jogging or the outdoors. Perfect for carrying your water bottle, cell phone, keys during your activities such as cycling, running, hiking, climbing, fishing, camping, or other outdoor activities.
FEATURES:
BREATHABLE FABRIC AND HOLSTER - The fabric of the belt is highly breathable enabling your run/walk to be highly comfortable and pleasurable.
LIGHTWEIGHT DESIGN - Weighing only 68g so you won't feel the weight when you run, the additional pockets allow you to carry more necessities such as your phone and water bottle. Fits any waist and features two sliding leash clips that work with any standard leash. Walk one or two dogs!
ECO-FRIENDLY - Made of environmentally friendly recycled material.
ULTRA-SOFT AND ELASTIC - The ergonomic hands-free design ensures that you will feel no discomfort or strain when running and hiking.
SAFE - Reflective strip offers night-time visibility with a water-resistant design. Elastic band fixes the water bottle ensuring that it will not fall on your run or walk.
PHONE COMPATIBILITY - Compatible with cellphones up to 6.2 inches, such as Galaxy S8, Galaxy S8 Plus, iPhone X, iPhone XR, iPhone XS, iPhone 8, Phone 8 Plus, iPhone 7 Plus, iPhone 7, iPhone 6s Plus, iPhone 6 Plus, iPhone 6s, iPhone 6, iPhone SE, Galaxy S7, Galaxy S7 Edge, Galaxy S6, Galaxy S6 Edge, Galaxy Note 8, Note 5.
CONVENIENT HEADPHONE SLOT - Offers easy access to headphones. Zipper pocket can hold cash or your phone. If you feel like listening to tunes, the headphone slot can fit the wires through, keeping phones safe while you jog.
KEY HOLDER - The pocket has a clip inside, designed to hold keys. No more dropping your keys while taking your phone out!
SPECIFICATIONS:
Material: Waterproof Polyester
Package Includes: 1 x?áAll-in-One Water-Resistant Waist Bag (water bottle and devices not included)