Emoji Car Action Figures
$14.97 $29.99
Have these super cute bobbleheads cheering you on during long drives!

Put a smile on your car and on your face with these super cute emoji bobbleheads! Their funny faces will brighten up your mood even when you're stuck in traffic.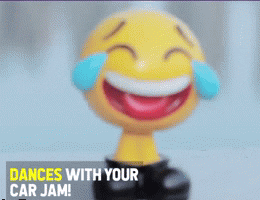 FEATURES:
Funny Action Figures - These Emoji Figures are fun to look at so it can brighten up the mood of your drive. They're also great for keeping the kids entertained during long drives.
Bobblehead Action - Leave boring decorations behind! These Emoji Figures are bobbleheads so they'll wobble and bobble during bumpy rides or while you're playing music in the car.
Non-Slip Base - Don't worry about them slipping off the dashboard. These fun bobbleheads have a non-slip base to keep them from slipping and falling off.
Not Just for Cars - Why just get one for the car? These bobbleheads are cute decors for the office and kid's bedroom. Bobble their heads when you're feeling bored or stressed at work to lighten up your mood.

Package Includes: 1 x Emoji Action Figure