Makeup Brush Cleaner
$24.97 $79.99
Did you know that without cleaning your makeup brushes, it gathers more bacteria than your toilet brush? This Makeup Brush Cleaner is the solution!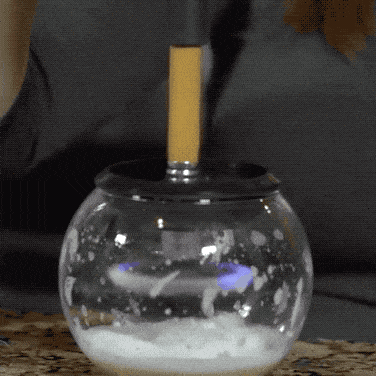 Clean and dry your makeup brush in seconds with this cleaner! The spinning motion removes every leftover makeup powder and dirt gathered by the brush, then dries the bristles, making them ready for the next use. It saves your skin from bacteria and saves you time from washing and drying your makeup brushes!



FEATURES:
Helps avoid skin problems that come from dirty brushes - A dirty makeup brush can cause so many skin problems. Prevent the risk by cleaning the brushes after every use with this cleaner.
Quickly Dries Brushes - No more waiting for the brush to dry. The spinning mechanism dries the brush in seconds!
Doubles as a Makeup Brush Organizer - The stand can hold up to 8 brushes

.

Harmless to your Makeup Brushes - Keep the quality of your makeup brushes. This cleaner doesn't harm the brushes.
Suited for almost all types of makeup brushes - From 4-30 mm in diameter, many makeup brushes can be cleaned using this beauty tool!

How to Use?
Attach the brush to the spinner
Pour water and soap into the bowl
Dip & Spin to Clean
Rinse and Then Spin to Dry.

SPECIFICATIONS:
Power: 2 x AAA batteries (not included)
Package Includes:

1 x Makeup Brush Spinner
1 x Makeup Brush Spinner Bowl
8 x Makeup Brush Caps