Self-Cleaning Flat Mop With Bucket
$51.97 $103.94
Looking for an advanced floor mop? Perhaps one that can save you time and effort?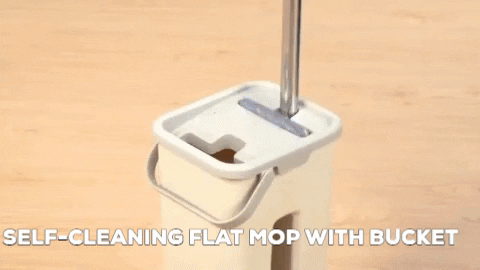 Using the Self-Cleaning Flat Mop With Bucket is really convenient, Less work-intensive than a spin mop or spray mop, and drastically reduce chemical and water use while cleaning more effectively.
Easy Washing, Easy Drying -?áOur revolutionary self-cleaning system makes sure that the dirt from your floor is lifted away and never comes back.
Wet or Dry Usage -?á?áPerfect for the living room, kitchen, bathroom, office, corner cleaning, and more! Use wet for a deep clean and dry for dusting floors, ceilings, windows, and other surfaces.
Microfibre Duster Mop Pads -?áUltra-fine woven microfibre head that effectively lifts dirt, retains water more than any cotton or disposable spray mop on the market!
High quality builds?áHeavy-duty bucket and stainless-steel mop handle means no rust, unbreakable resulting in you not having to buy another one again.