Walking Unicorn Plush Toy
$37.97 $69.95
A walking unicorn plush toy!
Unicorns have been and will always play a central role in the creative and imaginative minds of young children. Giving them our walking unicorn plush toy will bring utmost joy to them.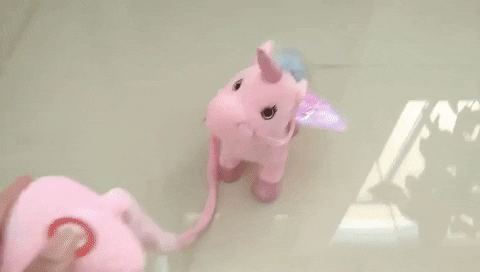 Children's happiness is priceless and we all want to see that treasure. Our walking unicorn is battery operated and has a soft and cuddly exterior aside from its base (legs) that are designed for walking.
FEATURES:
High-quality Materials - Made with high-quality soft plush and PP cotton that makes this stuffed toy cuddly, perfect for kids and toddlers.
Heart-shaped Tail Remote - Designed with a heart-shaped tail that doubles as its remote control. Kids and toddlers can lead this plush unicorn while walking.
Dirt Resistant Booties - Keep this plush toy clean even when walking with your kids. It has dirt-resistant booties on their hooves that won't stain and are easy to clean.
Majestic Unicorn Design - The cute and magical unicorns are a sure hit for kids, toddlers, and even teen girls! Every unicorn lover will love this plush toy!
SPECIFICATIONS:
Size: 35cm
Material: Soft plush and PP cotton
Battery: 3 x AA batteries (not included)
Package Includes: 1 x???Walking Unicorn Plush Toy